Only $89 each. In-Stock and ready to go……
Specifications:
| | |
| --- | --- |
| Size | 5' x 16" |
| Thickness | 2 Inch |
| Weight | 55lbs |
| Application | Driveways |
The eco-flex E-Z Drive is a high quality curb ramp that is as visually appealing as is useful. Attractive logo "eco-flex E-Z Drive" imprinted on the surface of the ramp. Special grooves situated underneath the curb ramp to allow proper water flow & drainage.

E-Z Drive Application: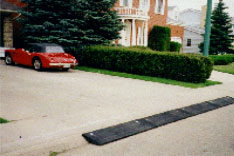 Benefits:
Bridges the gap between your driveway and the street.
Helps to prevent spoiler damage.
Increases the life expectancy of shocks and springs.

If you are looking for curb ramps in Edmonton, Garage Strategies stocks the best curb ramps in Edmonton at the best price so stop in today to get your curb ramps. A typical driveway needs two curb ramps however some start with one curb ramp then later buy another curb ramp if they need more. If the driveway is bigger than 3 curb ramps may be needed instead of 2 curb ramps which is typical.