Heaters are generally in-stock, you can call to verify and get pricing before coming to pickup.
INSTALLATION - We can provide you with a - local - professional Gas Fitters when you purchase your heater.
Full installation can be from $800.00 to $1,300.00, depending on the work required.
When a gas line is not in place, or you have questions wondering if this heater is right for your application, we charge $89 for a site inspection/quote in the Edmonton area.
Heater box dimensions - 120" L x 22" W x 11" H and some smaller boxes.

*NOTE: THE ASSUMPTION IS MADE THAT THE GARAGE IS INSULATED WITH A MINIMUM OF AN R-12 RATING IN THE WALLS AND ROOF. IF THE GARAGE IS NOT INSULATED UTILIZE THE NEXT LARGER MODEL. PLEASE NOTE THAT A NON-INSULATED GARAGE WILL CONSUME MORE FUEL AND WILL FEEL COOLER THAN AN INSULATED GARAGE.

---
Garage Heater Features
• Uses 30-40% less energy than conventional heating systems
• Quiet, draft-free operation
• Melts snow and ice from vehicles, and keeps the floor warm and dry
• Vents through the wall or through the roof
• Low clearance to combustible requirements above, and below
• Sleek, architectural design
• Various lengths and configurations available
• Available in natural gas or propane
• Inputs from 40,000 to 75,000 BTU's/Hr
• Heavy-duty construction, with anti-walk reflector design
2(will not shift or twist during expansion and contraction)
• 3-Try Direct Spark Ignition system, with 100% safety shut off
• Largest and heaviest gauge reflector in the industry
• 8-sided aluminum reflector
• Approved for indoor and outdoor use
• Creates additional heated living space for hobbies, vehicle maintenance, pets, crafts, etc.
• Provides beneficial heat for the home in attached garage situations
Optional Equipment
• 90 degree elbow kit (CAL50 & CAL75 only)
• 180 degree "U-Bend" kit (CAL75 only)
• All stainless steel construction
---
Garage Heater Specifications
Rating (Input: Natural and L.P. Gas) 0-4500ft elevation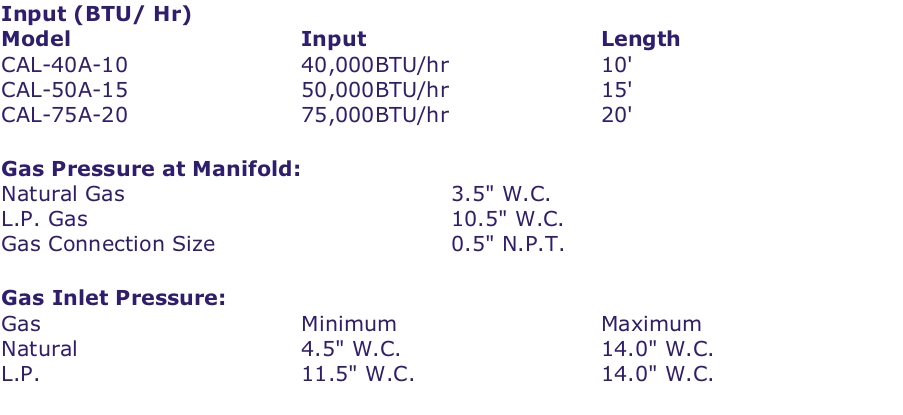 Electrical Rating:
DSI Ignition
120v, 60 Hz, 1 Amp
24 volt low voltage thermostat or On/Off Control
Standard Equipment:
Burner control housing is preassembled and pre-wired, unit comes complete with industry standard gas, electrical and venting connections, balanced air rotor, thermal overload protected motor, visual burner inspection sightglass, combustion and air proving safety switch, 3-try spark ignition control, 100% safety shut-off, low voltage thermostat connection, 4" heat treated aluminized combustion tube, aluminum standard reflector, tube couplers, joint/hanger pieces, heat economizer baffle, hanging chain & hooks.
Optional Equipment:
Elbow kit/ 180 degree U-Bend kit
Stainless Steel Construction
---
Garage Heater Clearance To Combustibles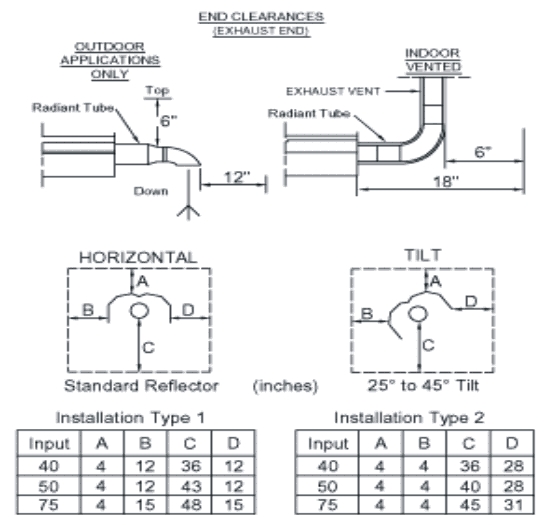 ---
Garage Heater FAQ
1) How are infrared heaters different from forced air systems?
It is important to remember that heat is not hot air. Heat is actually infrared energy which behaves in a similar manner to visible light with the exception that the human eye cannot see low range infrared energy. The infrared waves of energy are emitted off the burner tube at the speed of light and travel in a straight line until they are either reflected or hit an object. When the infrared waves hit an object; the energy causes the molecules on the surface to react. This action generates heat, which is then transferred throughout the object by conduction. The object then becomes a radiant emitter, and in turn, heats the air around it. The infrared heater's reflector redirects the energy emitted from the upper portion of the tube downward towards the floor.

2) Which model do I need for my garage?


*Note: The assumption is made that the garage is insulated with a minimum of
an R-12 rating in the walls and roof. If garage is not insulated utilize next larger
model. Please note that an non-insulated garage will consume more fuel and will
feel cooler than an insulated garage.
3) Where is the best place to install the heater in a typical garage?
Suspended from the ceiling, the heater can be positioned as close as 4 inches from the ceiling, and 4 inches away from any one of the remaining three walls (the fourth wall is being occupied by the overhead door). The unit runs parallel to the wall, and is tilted at a 25-degree angle towards the middle of the garage. Total headroom consumed by the heater and the necessary clearance to combustibles is only 16".

4) Can I get the unit on propane fuel?
Yes. Both Natural Gas and Propane versions are available; simply request the correct fuel type upon ordering.
5) Is this unit fuel efficient and economical to operate?
Yes, it will consume 40% less fuel than a forced air unit heater.
6) How safe is this heater?
Extremely safe. It is CSA designed certified specifically for use in residential garages as well as small shops, greenhouses and solariums.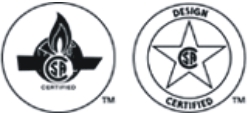 7) Are any dangerous fumes emitted from the heater?
No, there are no open flames. The key point to remember is this unit is a vented
system, either through the side-wall or roof. This unit completely vents all exhaust
gases to the outside of the building, leaving no fumes, CO or CO2 by-products in
the building.
8) Will it burn or discolor the paint on my car?
No. These heaters are low intensity, infrared heaters. Heaters that glow red produce ultraviolet light, which can discolor objects, and since this heater has no parts that glow red, only gentle, safe heat is produced by the emitter tube. As long as the heater is installed and operated in accordance with the installation instructions, and the vehicle is outside the required clearance to combustibles of the heater, it's safe. In fact, the surface of a vehicle under an low intensity infrared heater won't get as hot as a car that is parked outside in the sun on a hot summer day.
9) Is it noisy?
No. Since there is no air movement from the heater, there isn't a requirement to have a noise producing propeller style fan to move the air.

10) Can I use it in my wood shop?
Yes. Since the heater radiates heat into the space as opposed to blowing hot air, no dust is blown around. The unit utilizes outside air for combustion thereby sealing the combustion process from the heated space.
11) How does your heater compare to hot water slab heating?
You get all the features of hot water slab heating, with none of the headaches. The infrared waves heat the floors just like slab heating yet our heaters operate on 20% less fuel than the slab heating system with no leaks to worry about. Also the equipment cost is substantially less than for a hot water slab system.
12) Is heat recovery fast after I open and close the garage door?
Yes. As compared to either forced air or hot water slab heating, it's much faster.
With the Calcana unit, the warm floors provide a heat sink (heated mass), and when the overhead infrared heater turns on, it literally provides a sandwiching effect surrounding the occupants in draft-free, radiant heat from above and below.
13) Does it need electricity?
Yes. The heater utilizes 110-120 volts to operate the controls, and only draws 1 amp.
14) How do I control the heat?
The unit is thermostatically controlled (included), just set it and forget it.
15) What kind of warranty do you offer?
On a parts exchange basis, one year from date of install for all electrical components and three years on the rest of the unit.
16) Is this system expensive to buy?
When comparing this system to other styles of heaters, make sure you add up the
cost of all the accessories needed to complete the installation. Taking into
consideration all the features and safety of the Calcana unit, this heater certainly is comparable in price to the others with the further advantage of paying for itself over its lifespan with the exceptional fuel savings it offers.
17) What is the advantage of a heated garage?
The advantages of a heated garage are many. Cars parked in a heated garage are
warm and ready to operate. No scraping of windshields, no wasting of gasoline
while you wait for the car to warm up. Rooms located above or adjacent to a heated garage feel warmer and are more comfortable. Heated garages add home equity, as well as offer additional living space for working on cars, bikes, or other hobbies, or even for beginning a home business. Garages are becoming fun places to be, sometimes even becoming neighborhood gathering places.