GSi Premier Garage Cabinets
Powder Coated & Standard Custom Wood Storage Cabinets
Design, Delivery & Local Installation | Made in Canada
Custom. Strength. Quality.


Our Custom Garage Cabinets offer the Largest & Strongest Capacity Storage Solution for Your Garage.
Great Price and they look good too!
Garage Strategies' will visit you on-site - at your garage - for a cabinet consultation. We will create a Customized Cabinet Design layout of your quoted configuration - giving you exactly what you imagined. Color, size and the best layout! Our GSi Premier Garage Cabinets offer On-Site build and install, full backing, off the floor mounted, one-inch shelving (25% thicker than the industry standard) with load-bearing capacity of 100 pounds and easy-to-clean thermo-fused melamine interiors / exteriors. They can withstand heavy loads and the extreme Alberta climate. You won't have to worry about sagging or durability, these cabinets have it all; excellent material and hardware that will perform better than any other garage cabinet of its kind...
GSi Premier Garage Cabinets Photo Gallery - Finishes and Colors
Powder Coated Finish - Granite GSi Premier Garage Cabinets

Powder Coated Finish - Red GSi Premier Garage Cabinets
More photos to come
Standard Finish - White GSi Premier Garage Cabinets

Standard Finish - Maple GSi Premier Garage Cabinets

Standard Finish – Coco GSi Premier Garage Cabinets

Standard Finish – Silver/Slate GSi Premier Garage Cabinets

Garage Cabinet Color Finishes
All interior shelving and drawers are white
Standard Color Finishes
• Maple, White, Silver/Slate, Coco
Powder Coated Color Finishes
• Red or Granite
Cabinet Options
Tall Lockers, Walls, Bases, and Drawer Units customizable with:
(6) Widths 18", 24", 30", 36", 42" and 48"
(4) Depths 12", 16", 20" and 23"
(7) Heights 23", 30", 38", 45", 76", 83" and 91"
• ¼" backing and high-grade concealed soft-close hinges are standard on all cabinets
• Three heights for drawers (3 ¾", 7 ½", 15") with full extension runners which allow drawers to open completely for full access to all items
VISIT OUR SHOWROOM – To see our innovative sliding door system (available on tall locker cabinets) which provides easy access to belongings — without moving a parked vehicle. Designed with added convenience in mind, the dual sliding track door is ideal for spaces lacking adequate room for swinging doors.
Counter Finishes and Sizes
Butcher Block, Stainless Steel, Black Ebony Star Laminate with black edge banding
• 25" deep and your choice of (4) widths; 24", 48", 72" and 96"
Handle Finishes
Arched handles 5" each and available in Black, Bronze or Steel.
Bar handles sizes ranging from 3¾" to 30", are available in Stainless Steel or Brushed Nickel.
White & Stainless Bar
Maple & Bronze Arch

Coco & Brushed Nickel Bar
Silver & Stainless Steel Bar

Powder Coated Red & Aluminum
Powder Coated Granite & Stainless Bar
GALLERY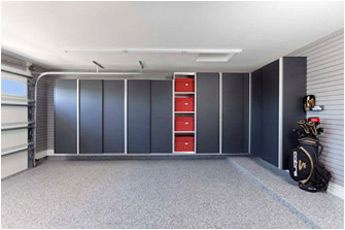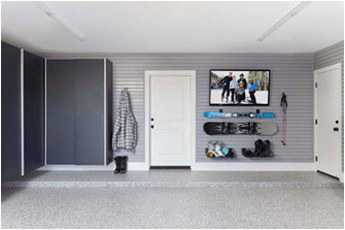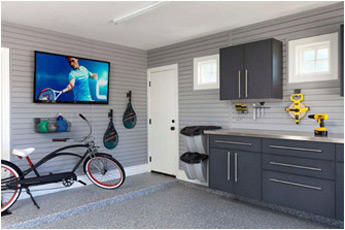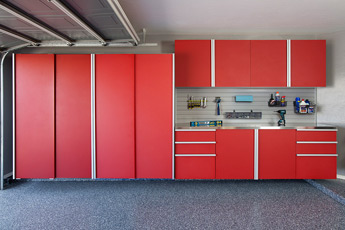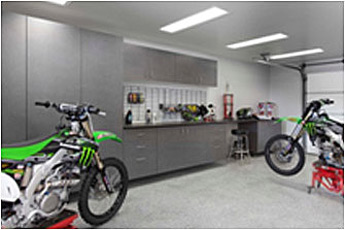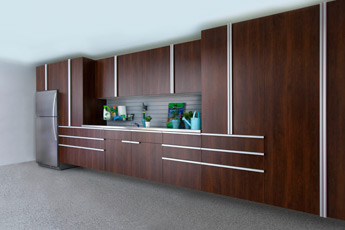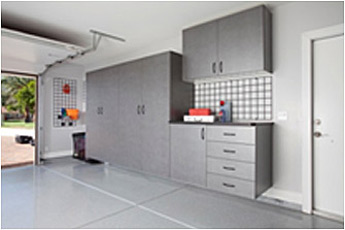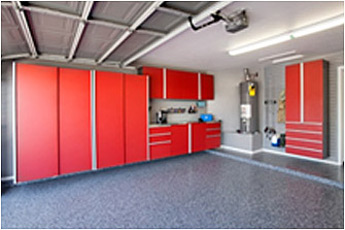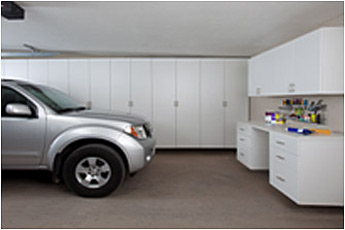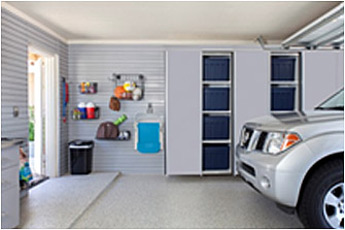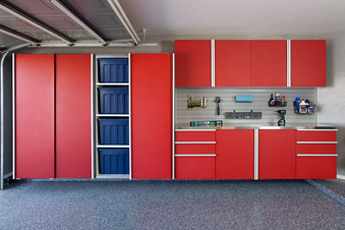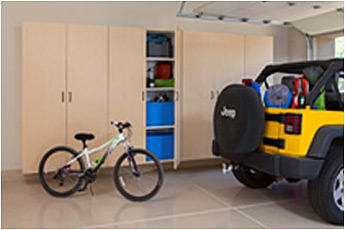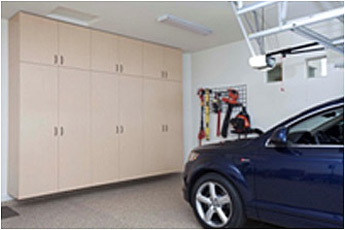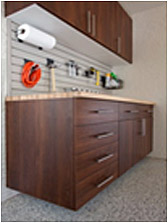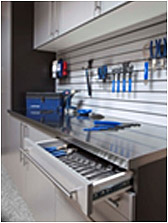 Garage Strategies Inc. GSi Premier Customized Cabinets & Slatwall, very large storage capacity, 2017, Mr. Terry O.
Click on images for a larger view.
If you are looking for garage cabinets in Edmonton, Garage Strategies stocks the best garage cabinets in Edmonton at the best price so stop in today to get your garage cabinets and garage storage. A garage needs a lot of storage. Achieve your garage storage needs with Garage Strategies wide array of garage cabinet and garage storage products.